Citytrip
Discover the Hanseatic cities per bike and barge
Reading time 2 minutes
7182 x bekeken
Together with Boat Bike Tours you travel per bike and barge through the flat river valley of the Rhine. Enjoy nature with beautiful forests and heathland, and discover the vibrant hanseatic cities of Doesburg, Zutphen, Deventer, Zwolle and Kampen.
Rich history
In the 13th and 14th century one of the most important trade routes of Europe ran through the IJssel valley. Nowadays you can recognize many remains during the bike and barge tour to the hanseatic cities with Boat Bike Tours. In Doesburg, Zutphen, Deventer, Zwolle and Kampen the refined merchant houses and old city walls are reminders of this age.
Elburg and Spakenburg
From Kampen the route continues over cycle paths through the afforested nature reserve the Veluwe and through old fisherman towns, such as Elburg and Spakenburg. This last port town, situated along the former Zuiderzee, is well-known for its characteristic regional costume. Elburg can easily be recognized from the accurately straight streets and the surrounding rampart. Take your time to discover these nice towns.
Your stay
During this tour you'll be staying aboard a comfortable cabin with private sanitary facilities. The best thing about sleeping on a ship is, that every day you have breakfast with a different view, but you do not have to pack and unpack your bag daily. Aboard of the ships Gandalf, Sarah or the Lena Maria the crew (captain, chef, waitresses and housekeeping) will do their very best to make you feel at home.
Types of guidance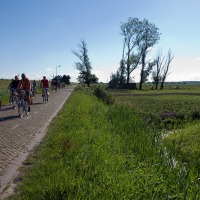 During this eight-day hanseatic tour there will be a tour leader who, each day, talks you through next days' route and who will also be cycling along. You can also decide to cycle the daily routes on your own pace, on the basis of detailed maps and route descriptions. Just as you feel like or are comfortable with.